Audience:       Ages 10-14+
Focus:  Signature programming that provides maximum, foundational improvement to support athletic performance
Experts state that the ages of 10-14+ as the most ideal time for developing speed, strength, and power!
At this level, programming is broken down into an individual focus per session. These are:
Linear Speed: Workhorse Sports Performance signature straight-ahead acceleration and top-speed running techniques.
Change of Direction: Agility and ability to decelerate and move in any direction quickly.
Upper and Lower Body Strength: Strength training exercises for muscle development and injury prevention.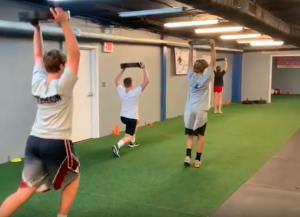 This program builds on an athlete's physical foundation and refines their skills in order for them to maximize their strength, aerobic and/or sport specific training. Athlete's will also learn the skills and conditioning necessary to help prevent injuries through various warm-ups, exercises and techniques.
Pricing Total Performance: