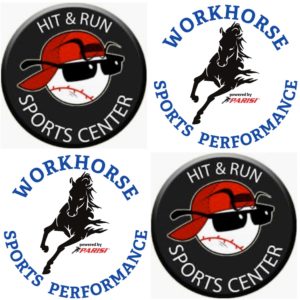 The Workhorse Sports Performance team is excited to announce its recent partnership with Hit & Run Sports Center,  a  premier level, baseball & softball development center in Jefferson, New Jersey.
Hit & Run has run the bases for over a decade, and with longevity comes experience.  Their training staff has over a century of baseball knowledge and has produced some of the top athletes in the area.
The team at Hit & Run are able to assist our players in Becoming The Best Athletes They Can Be by getting to know them, their families and most importantly their goals. Together, the team helps develop and execute a plan that meets and exceeds these goals.
The baseball & softball training center has a strong partnership with the Hit N Run Outlaws, a top baseball club program in the area that prides itself in developing baseball players within the athletic community to compete against high-level competition and to compete at the collegiate level.
Owner Vicky Ziolkowski feels that the partnership between the two will be of huge benefit to both parties and most importantly, baseball athletes.
"The Workhorse team is looking forward to working with the Hit and Run staff and baseball players!"
Mike Pena, Director of Baseball Operations at Hit and Run feels the partnership will be a good one.
"Hit and Run is excited to venture on this partnership with Vicky and her staff at Workhorse Sports Performance to provide our athletes with the best tools to physically develop their strength and speed."
Parents and athletes can learn more about the baseball program by visiting their website here.
Hit & Run athletes will gain access to Workhorse coaches and training programs through the partnership. We are NOW offering training sessions at Hit & Run Tuesday & Thursday's! 4:00PM-5:00PM ( Ages 14+) 5:00-6:00PM ( Ages 10-13)
Packages(15 Pack-$325 30 Pack-$550)